MOPDC's Winter Intensive: Dance, Choreograph, Envision

January 13 – January 15, 2018 → NYC
Dates & Times:
Saturday Jan. 13th: 9:30am-6:30pm

Sunday Jan. 14th: 10am-6:30pm
Monday Jan. 15th: 10am-8:30pm*
*Informal studio showing 7-8:30pm
Location:
Barnard College, Columbia University, NYC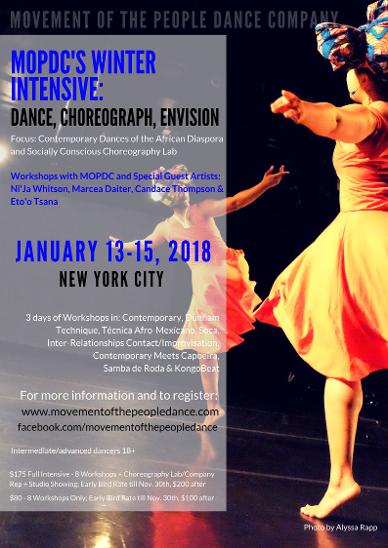 MOPDC's weekend Winter Intensive offers intermediate/advanced dancers the opportunity to explore and connect with various dances of the African Diaspora, tools for creating socially conscious choreography, and experiential insight as to ways in which Dances of the African Diaspora can be incorporated in Dance Theater.
Workshops - 3 days of rotating Technique Classes in: Contemporary, Dunham Technique, Samba de Roda, Soca, KongoBeat, Técnica Afro-Mexícana, Inter-Relationships/Contact Improv. Workshops led by Special Guest Artists: Ni'Ja Whitson, Candace Thompson, Marcea Daiter, Eto'o Tsana (Cumbe Community Partner), along with MOPDC company members including Artistic Director, Bessie Award winning choreographer, Joya Powell! Each day will start with 2-3 technique classes for a total of 8 classes for the entire weekend. Click HERE for bios and class descriptions.

Choreography lab - Creating Socially Conscious Dance Theater Choreography facilitated by MOPDC company members. Each day will conclude with 3 hours of collaborative group choreography making/solo work or a company repertory class, where participants will be lead through MOPDC's best practices in creating Socially Conscious Choreography.
Studio showing - The Intensive will culminate in a free informal studio showing of student work and excerpts of MOPDC company repertoire. Participants will get the chance to discuss their process and receive audience feedback. Monday, Jan. 15th @ 7pm.
MOPDC's Winter Intensive is for dancers and choreographers who are interested in embodying various dances of the African Diaspora as well as envisioning and creating evocative Dance Theater choreography that addresses sociocultural issues as a means to educate, inform and ignite dialogue.



Cost & Registration:
Early Bird Discount Until November 30th!

$175 + tax via Paypal for the FULL INTENSIVE:
8 technique classes, choreography lab/repertory
+ showing
$200 AFTER NOVEMBER 30th


Early Bird Discount Until November 30th!
$80 + tax via Paypal for the 8 TECHNIQUE CLASSES only

$100 AFTER NOVEMBER 30th

SINGLE WORKSHOP OPTIONS NOW AVAILABLE @ $15 PER WORKSHOP!
CLICK HERE TO REGISTER + CLICK HERE TO PRE-PAY

**All payments & deposits are non-refundable. No exceptions.

***Please note, all transportation, accommodations, and meals are the responsibility of each participant***
For questions or more information, please contact: contact@movementofthepeopledance.com
Please see our FAQ's sheet for more details.


For more information and booking: contact(at)movementofthepeopledance.com