Facilitator Bios and Workshop Descriptions:
*Please note: our facilitators are in high demand. Due to the nature of our industry and the current pandemic, faculty is subject to change without notice.*
Guest Artists:

GABRI CHRISTA
Bio:
GABRI'S MISSION IS TO TRANSFORM THE UNDERSTANDING OF HUMANITY THROUGH THE ARTS. Born and raised in the Caribbean island nation of Curaçao, Gabri is a member of a crossroads culture, and her work expresses the politics and poetics of interchanging races, rhythms, and histories. Multi-disciplinary and wide-ranging in form, Gabri's art-making spans film, choreography, performance, curation, writing, and more. Her subject matter helps determine her approach. When the eloquence and expressive power of dance started to feel limited, she turned to film. Now when she choreographs, she finds herself looking through a more dramaturgical lens. Writing, research and taking part as performer can all influence the medium or direction of a work.
Workshop Description: Mobile Movement Filming: Directing Camera & Movement
This introductory workshop gets you started making movement films with your mobile phone. You will leave the workshop with tips and a list of resources. The Mobile Movement Filming workshop will help you take the best shots possible, start understanding the camera, and how to compose both the camera and movement so you can begin your mobile film journey.
A'KEITHA CAREY
Bio:
A'Keitha Carey is a Bahamian artist, educator and scholar. She developed the dance technique CaribFunk, a fusion of Afro‐Caribbean, ballet, modern, and fitness principles and rooted in Africanist and Euro-American aesthetics and expressions. She received her B.A. in Dance from Florida International University and an M.F.A. in Dance from Florida State University. She also holds a Certificate in Women's Studies from Texas Woman's University and is currently in the combined MA (African and African Diaspora Studies) and PhD (Global Cultural Studies) program at Florida International University. She researches Caribbean spaces, locating movements that are indigenous, contemporary, and fusion based and investigates how Caribbean cultural performance (Bahamian Junkanoo, Trinidadian Carnival, and Jamaican Dancehall) can be viewed as praxis and Erotic subjectivity and performance in Jamaican Dancehall by women.
She has taught in K-12 serving as the Department Chair of the Enrichment Program and the Performing Arts Teacher at Indian Ridge Middle School in Davie, Florida (2017-2018) and in Higher Education, serving as dance faculty for several universities across the country. A'Keitha is a member of Olujimi Dance Theatre in Miami, Florida and a personal fitness coach, she also teaches CaribFunk Fitness on the online dance platform Woodshed Dance.
Class Description:
CaribFunk Technique (Erotic Self Making)
CaribFunk Technique fuses Afro-Caribbean (traditional and social dance), classical ballet, modern, and fitness elements. It also encourages exploration of self while investigating identity, citizenship, and culture through a kinesthetic expression of the rhythmic gestures of the pelvis. Engaging with Jafari Allen's ideology "erotic self-making" where "…narratives, standpoints, and knowledges are debated and performed publicly," CaribFunk Technique focuses on performances of resistance within the African Diaspora, specifically in Dancehall and Carnival culture. Through this process, embodied spirituality, erotic agency, self-love, acceptance, and catharsis occurs.
QUILAN "CUE" ARNOLD
Bio:
Quilan "Cue" Arnold (MFA) is a dance professional (dancer, choreographer, podcaster, producer, teacher) based out of Brooklyn, New York. He has been a member of companies such as Camille A. Brown and Dancers (NY), Rennie Harris Puremovement (PA), Abby Z and the New Utility (NY), and Enzo Celli Vivo Ballet (NY). Quilan's work has been presented in a domestic and international milieu. His most recent choreographic work, "The Third Rail," was premiered at the 2018 INSITU Site-Specific Festival in New York, and has been presented in 2019 at Hunter College and the American Dance Festival. Other recent credits include the International Human Rights Festival (NY), Steps on Broadway's Performance Lab (NY), and the Emerging Choreographer Series (NY).
Quilan is also the co-founder of the street dance podcast, "The Good Foot" and the executive director of the street dance documentary, "Build'N Shop," which is partially funded by the 2018 Ohio State Dance Preservation Grant.
As an educator Quilan currently serves as a faculty member at Hunter College, Peridance Capezio Center, Gibney Dance Center in New York City. Quilan also hosts an online hip-hop class, "Get Groovy." Visiting artist credits include: Brigham-Young University (UT); Bard College (NY); Towson University (MD); Ohio State University (OH); Rutgers University (NJ); University of Memphis (TN); and New York University (NY).
Workshop Description: Hip-Hop Groove Foundations
focuses on essential Hip-Hop techniques (i.e. isolations, polyrhythm, footwork, groove) as a way for students to deepen the understanding of their body, and to broaden their tools for individual expression. The class ebbs-and-flows between rigorous technical content through drills, combinations, and improvisatory cypher explorations. Students should expect to leave class kinesthetically, culturally, and spiritually awakened with deep connections to afro-centric aesthetics through a Hip-Hop lens.
JASON SAMUELS SMITH Lunchtime Choreographic Discussion
Bio:
Jason Samuels Smith received an Emmy, Dance Magazine Award, American Choreography Award, and Gregory Hines Humanitarian Award. Television/film and choreography credits include Outkast's Idlewild; Black Nativity; Psych; Secret Talents of the Stars (MYA); So You Think You Can Dance; Dean Hargrove's Tap Heat. Stage Credits include Broadway's Bring in Da'Noise, Bring in Da'Funk; Debbie Allen's Soul Possessed, and Imagine Tap!. His touring works included India Jazz Suites as documented in "Upaj: Improvise", A.C.G.I. Tap Company, Going The Miles, Chasin' The Bird, and Dormeshia Sumbry-Edwards's And Still You Must Swing. Director of L.A. Tap Festival and Tap Family Reunion, Smith supports DRA/Broadway Cares, Tied to Greatness, CTFD/The Actors Fund, Groove with Me, TapTakeOverHarlem, amfAR, and AHF among others. Smith promotes respect for tap dance, developed a pro tap shoe by BLOCH, and creates opportunities for upcoming generations as he travels as an ambassador for tap around the world.
Description: Choreographic Discussion
Jason Samuels Smith will be sharing thoughts about his choreographic processes and his role in elevating African-American dance forms and legacy. This talk is open to Full Intensive and the 7 Workshops only series participants.
MOPDC Company Members + Affiliates: CLICK HERE FOR BIOS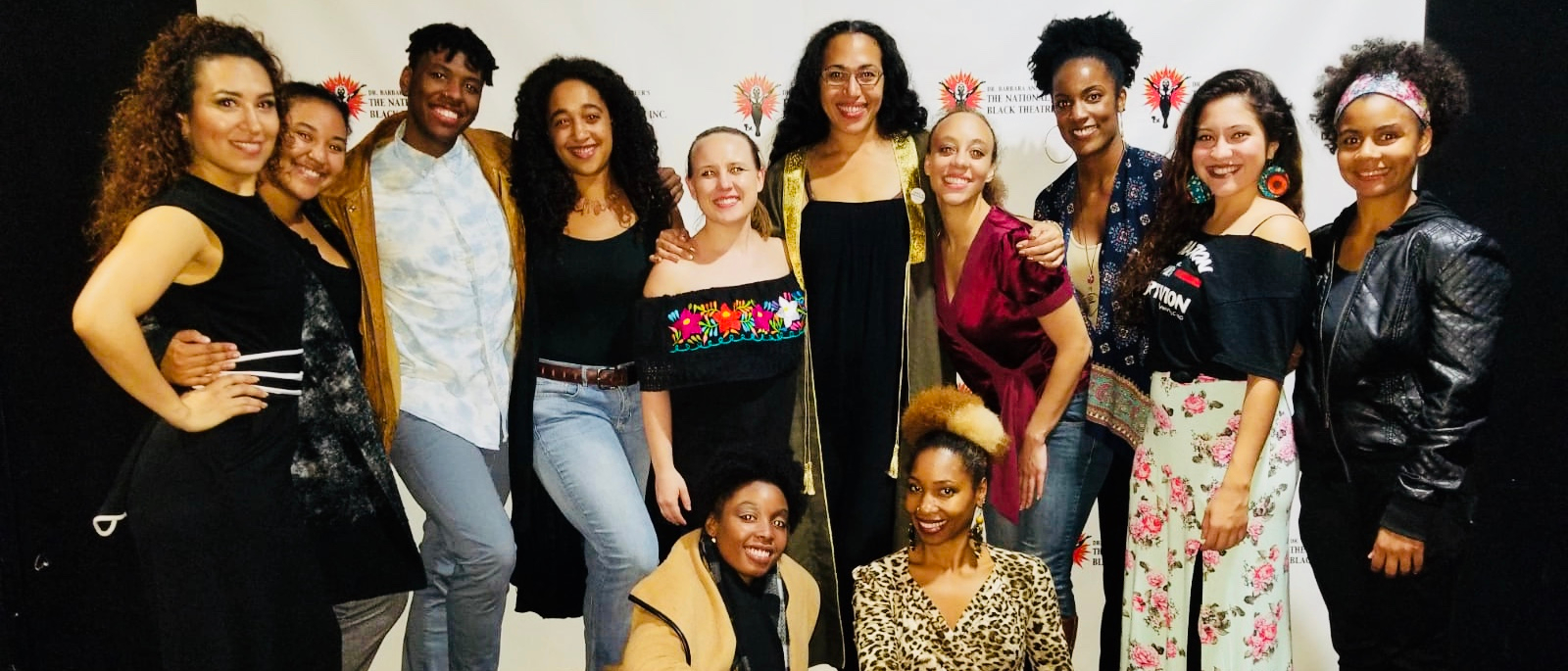 Tyrone Bevans Kelsey Burns Camilla Davis Melissa Escano Brittany Grier Solana Hoffmann-Carter Megan Minturn Joya Powell Kendra J. Ross Belinda Saenz Najla Sims Candace Tabbs Emily Tellier
Class Descriptions:
Afro-Brazilian w/ Joya Powell and Kelsey Burns:
PAGODE! A popular style of Samba dance and music from Brazil. It has evolved from its roots in acoustic sound to additional electronic vibes - becoming one of the most sought after music and dance styles in club scenes across Brazil. Upbeat, catchy lyrics coupled with choreographed songs has made Pagode a symbol of connection between Brazilians. Participants will dance it out, learn the basic Samba, and choreography to a popular Pagode song. Most of us may not be in Brazil, but we can carry Brazil in our hearts and hips.
Contemporary w/ Solana Hoffmann-Carter and Emily Tellier:
Explore warm-ups and phrase work that combines Contemporary Dance with an African Diaspora flare. The workshop connects breath with grove, and Africanist form and function.
Line Dance w/ Kendra J. Ross and Brittany Grier:
Miss the community and solidarity of dancing with others at a party? Let us bring the party to you through Line Dance class. Created to bring the shy novice, the outgoing professional and all those in between together, line dance is a fun way to gather all in your household for movement, unity and fun. The class will begin with a gentle warm up followed by a common line dance that everyone may know, such as the Electric Slide. Then we will learn other popular dances you and your family can use to show off at your next function. This class is open to all levels and generations. Let's party together.
Left Brain Somatic w/ Tyrone Bevans and Camilla Davis:
This class is an invitation to embody creativity, and deepen self awareness. We will flow through a sequence of improvisational games that will include breathe-work, floor work, and story telling. During this class we aim build our community through self and mutual care.
Choreography Lab and Company Repertory:
Participants have the choice of building their own choreography in our Choreography Lab or learning Company Repertory.

Socially Conscious Choreography: Protest in Motion
These workshops will address ways in which to explore choreography of a sociocultural/sociopolitical nature through research, movement exercises, theater games, and personal reflection. It will focus on tools related to the art of creating and crafting socially conscious choreography in an engaging and approachable fashion. MOPDC facilitators will lead participants through some best practices for engaging in this subject matter, share processes in honing tactics through trial and error, discuss specific experiences and outcomes of exploring socially conscious choreography as both choreographer and performer, their experience in melding theme appropriate dances of the African Diaspora with Contemporary Dance, as well as expand the dialogue to the participants giving them the space to brainstorm for ways in which to include sociocultural/sociopolitical topics in their practice of dance making. Participants will be encouraged to continually discuss and reflect on their experience throughout the process, and by the end of their experience they will leave with the shared tools of the facilitators, their own tools, as well as their own short collaborative or solo choreographic work which will be shared in open public virtual showing Monday, January 18th @ 7pm.
MOPDC Company Repertory
Our company repertory classes will offer participants the opportunity to get a hands on experience in our process of creating socially conscious choreography while learning excerpts of our current choreography. Dancers will get the opportunity to perform these excerpts in our virtual showing Monday, January 18th @ 7pm.