Facilitator Bios and Workshop Descriptions:
*Please note: Due to the nature of our industry and the current pandemic, faculty is subject to change without notice.*
Guest Artists:

CAREITHA DAVIS
Bio:
Careitha Davis, a Brooklyn native with roots in Trinidad and Tobago, is a professional dancer, choreographer and educator. From an early age Careitha started training as a dancer in Modern, Jazz, Ballet and African while traveling as a young performer. Careitha attended SUNY Purchase College receiving a BA in Media, Society & the Arts and earned an MA in Dance Education K-12 Track from New York University where she practiced methods in instructing non-dancers and young learners as a practice for community building and creating art. She has performed the works of George Faison, Dianne McIntyre, Ronald K. Brown, Mouminatou Camara, Joya Powell/Movement of the People and Jemal Gaines. Careitha began teaching Soca at Cumbe: Center for African and Diaspora Dance in 2018 and established BodyRa Movement in 2020. Her teaching and choreographic philosophy for BodyRa Movement is for dancers to reach a level of freedom in their movement, building community through the rituals and traditions in Caribbean culture. BodyRa Movement have been granted the Downtown Brooklyn Rehearsal Residency Initiative and 2021 premiered 'Trinidad Noir', a choreographed piece highlighting folklore dance traditions of Trinidad and Tobago, at Spoke The Hub: Local Produce Mini Festival. As a choreographer, Careitha worked with Davalois Fearon Dance and Queensborough Community College/ KogagoDance and as an educator serves New York University: Dance Education program as a guest professor and Wadleigh Secondary School for the Performing and Visual Arts.
Workshop Description: Soca
A high-energy dance class with a cultural experience that blends Caribbean dancing with African and Jazz dance technique. This class starts with a group stretching session to calypso music then progresses into the explanation and practice of foundational Caribbean dance steps and movement then followed by choreography.
KATITI KING
Bio:
Katiti King is a Native New Yorker. Her wonderful parents were both accomplished educators and classically trained music professionals on the world stage. Dance, rhythm and performance is literally in her DNA.
On faculty at Barnard College since 1990, Katiti continues to dance, choreograph and educate to diverse audiences at universities, dance schools and workshops all across the globe since 1980. Communicating through movement and teaching others to do so, dance continues to be Katiti's mission, honor and her passion. Katiti's training includes dance disciplines of: Dunham, Simonson, Horton, Graham, Afro-Cuban and Ballet.
King proudly states, "my approach in movement is rooted firmly in the African Diaspora's rich storied heritage of cultural and ritual significance that continues to inspire and shape Contemporary Jazz Dance today".
She continues to lead students on a journey into communicating Contemporary Jazz technique through anatomy alignment, body/mind awareness and injury prevention with an emphasis on connecting musicality, rhythm and spatial awareness into movement.
Class Description:
Contemporary Simonson Jazz
A Contemporary Jazz Dance class, warm-up and workout. As always, I encourage you to move at your own pace within your own space.
My brand-method of Contemporary Jazz Dance is rooted in The Simonson Technique™ and continues to guide you into mind-body awareness through alignment, technique and rhythm connectivity all while YOU safely communicate YOUR movement at YOUR own rate of flow.
PRINCESS LOCKEROOO
Bio:
Princess Lockerooo is a multifaceted performance artist, content curator, educator and activist with a 14-year tenure in the dance and entertainment industries. Her talents encompass choreography, artistic direction, costume & makeup design, event curating, mentorship, public speaking and women's empowerment.
Princess Lockerooo has been showcased on many of the entertainment industry's leading television platforms such as Harry Connick Jr., Wendy Williams, So You Think You Can Dance, has worked with top pop artists Madonna, Jody Watley, Icona Pop) and has produced entertainment for numerous events across the world (Lincoln Center, Summerstage, Women's Entrepreneurship Day, SAP Next-Gen)
Lockerooo's work has brought her to over 27 countries throughout Asia & Europe. She is a vegan advocate and her mission is to encourage a physically and mentally healthy lifestyle.
Her unique brand of entertainment stands for self empowerment, equality, and sensuality without objectification.
Workshop Description: Waacking Basics
My greatest skill as an instructor is knowing how to bring out the best in each individual. No matter your level or experience I can teach you how to move with confidence, connect to your power and bring out the diva within.
My methods are simple, practical and they work! Repetition and muscle memory are wonderful tools which I rely on throughout Connecting to yourself is where all the magic happens. When we trust ourselves and feel like we know what we are doing we can move without hesitation or doubt. I call this space the super zone.
MOPDC COLLABORATING COMPANY MEMBER WORKSHOPS
Afro-Brazilian w/ Joya Powell
Samba Afro is a popular lively dance form created by Afro-Brazilian Carnaval Groups of Bahia, brazil. Be inspired by the uplifting and vibrant rhythms, along with the underlying oral tradition of Afro-Brazilian culture explored in this dynamic class.
Contemporary w/ Solana Hoffmann-Carter & Emily Tellier
Explore warm-ups and phrase work that combines Contemporary Dance with an African Diaspora flare. The workshop connects breath with grove, and Africanist form and function.
Afro-Colombian Bullerengue w/ Melissa Escano
Melissa and accompanist Sebastian will take us through the 3 styles of Bullerengue, an Afro-Colombian tradition - that is both sang and danced. We will learn basic steps, sing, and share in community the lamentos (pain), resistance and joy that Bullerengue calls upon. Bring a skirt and/or hat!
House w/ Tyrone Bevans
Grounding in the rhythms of African Diasporic ancestors, this class will utilize polycentrism as well as polyrhythm to emphasize connections in social dance, house vocabulary, and finding our own pulse that enables individuals to share in community.
LUNCHTIME CHOREOGRAPHIC DISCUSSION SERIES
Theme: Choreographic Process
Guest choreographers will be sharing thoughts and musing about their choreographic processes in conversation with each other at the proverbial (or literal) kitchen table. These talks are open to Full Intensive participants.
Special Guests:
Brother(hood) Dance! Orlando Hunter Jr. + Ricarrdo Valentine
Bio:
Brother(hood) Dance! is the 2020 Bessies Honoree of the NY Dance and Performance Awards, The Bessies for Afro/Solo/Man. They are an interdisciplinary duo that seeks to inform its audiences on the socio- political and environmental injustices from a global perspective, bringing clarity to the same- gender-loving African-American experience in the 21st century. Brother(hood) Dance! was formed in April 2014 as a duo that researches, creates and performs dances of freedom by Orlando Zane Hunter, Jr. and Ricarrdo Valentine. We have performed our works at FiveMyles, Center for Performance Research, B.A.A.D! (Bronx Academy of Arts and Dance), VCU-The Grace Street Theater, DraftWork at St. Mark's Church, JACK, Movement Research at Judson Church, Colby College, Denmark Arts Center, Universidad de las Américas Puebla/Performática(MX), Escuela Profesional de Danza de Mazatlán/Viso Festival (MX), Jean-Rene Delsolins Institute (HT) and other venues.
PALOMA MCGREGOR
Bio:
Paloma McGregor (b. 1974) is a Caribbean-born, New York-based choreographer and arts leader. As co-founder and Artistic Director of Angela's Pulse, McGregor has spent more than a decade centering Black voices through collaborative, "community-specific" performance projects. A former newspaper editor, McGregor brings a choreographer's craft, a journalist's urgency, and a community organizer's framework in the service of big visions. The daughter of a fisherman and public school art teacher, McGregor amplifies and remixes the quotidian choreographies of Black folks, reactivating them in often-embattled public spaces. McGregor's work situates performers and witnesses at the embodied intersection of the ancestral past and an envisioned future; for her, tradition transcends time. Working at the growing edge of her field, McGregor has been an inaugural recipient of several major awards, including: Open Society Foundation's Soros Art Fellowship (2020); Dance/USA's Fellowship to Artists (2019); Urban Bush Women's Choreographic Center Institute Fellowship (2018); and Surdna Foundation's Artists Engaging in Social Change (2015).
AMARA T. SMITH
Bio:
Amara Tabor-Smith describes her experimental dance theater work as Afro Surrealist Conjure Art. Her dance making practice, utilizes Yoruba spiritual ritual to address issues of social and environmental justice, community, identity and belonging. A San Francisco native and Oakland resident, she is the artistic director of Deep Waters Dance Theater (DWDT) and was the co-artistic director of Headmistress, an ongoing performing collaboration with movement artist Sherwood Chen. Her work has been performed in Brazil, The Republic of the Congo, Judson Church/Movement Research, NYC and many venues throughout the San Francisco/Bay Area and the United States. She is a 2019 Dance/USA fellow, 2018 United States Artist Fellow, is a 2017 recipient of the Urban Bush Women Choreographic Center fellowship, and is a 2019 recipient of A Blade of Grass fellowship and 2016 recipient of the Creative Capital Grant with Ellen Sebastian Chang.
EDISA WEEKS
Bio:
Edisa Weeks is a Brooklyn, NY based choreographer, educator and director of DELIRIOUS Dances. Weeks creates intimate environments that merge theater with dance. Described by the New York Times as having "a gift for simple but striking visual effects," her work has been performed in a variety of venues including Aaron Davis Hall, Alfred University, chashama theater, Dixon Place, Emory University, Works & Process at the Guggenheim Museum, Harlem Stage, Jacob's Pillow, The Kennedy Center, The Massachusetts International Festival of the Arts, The Mermaid Parade, The National Black Arts Festival, Summerstages Dance Festival, and The Yard. She has also performed in swimming pools, senior centers, sidewalks, storefront windows and various living rooms, including living rooms in Berlin, Germany, as part of Haus der Kulturen der Welts 50th anniversary celebration. Raised in Uganda, Papua New Guinea and Brooklyn, NY, Weeks holds a BA from Brown University and an MFA from New York University. Edisa Weeks and DELIRIOUS have received awards from Artists International, The Brooklyn Arts Council, Dixon Place, the Mertz Gilmore Foundation, New Music USA – Live Music for Dance, New York Foundation for the Arts, The Puffin Foundation, as well as choreographic residencies at Djerassi, Joyce SoHo, the Tribeca Performing Arts Center, and The Yard.
MOPDC Company Members + Affiliates: CLICK HERE FOR BIOS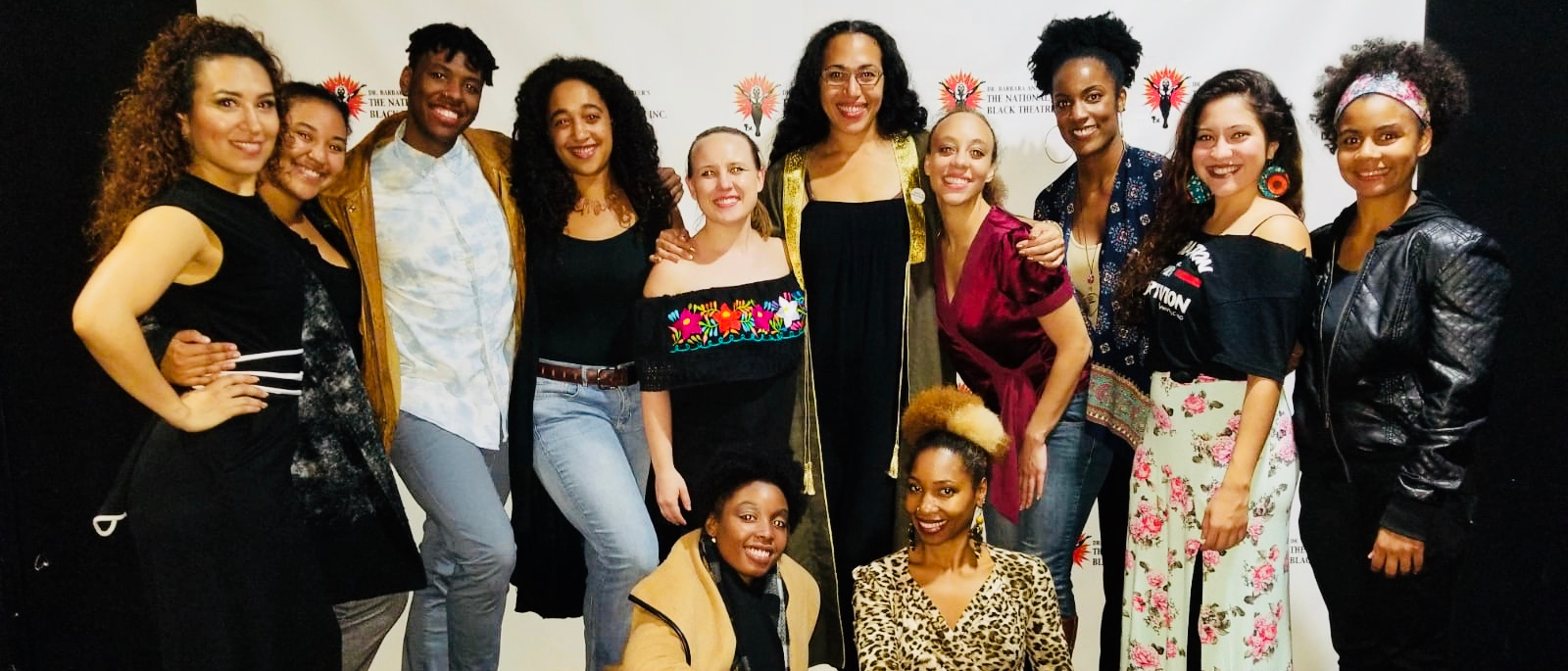 Tyrone Bevans Kelsey Burns Camilla Davis Melissa Escano Brittany Grier Solana Hoffmann-Carter Megan Minturn Joya Powell Kendra J. Ross Belinda Saenz Najla Sims Candace Tabbs Emily Tellier