Facilitator Bios and Workshop Descriptions:
*Please note: Due to the nature of our industry and the current pandemic, faculty is subject to change without notice.*
Guest Artists:

COURTNEY HENRY
(she/her)
Bio:
Created in West Palm Beach, Florida and further educated in New York City, Courtney Henry received her Bachelor of Fine Arts Degree graduating Magna Cum Laude in the Class of 2011 at Fordham University in tandem with The Ailey School. Leaving her cohort a few months before graduating, Courtney was offered a contract with Alonzo King LINES Ballet, where she danced for seven years becoming a Principal Dancer with the company, touring and performing all over the world. While there, she participated in all of King's world premieres in collaborations with high-profile artists such as Zakir Hussain, Jason Moran, Lisa Fischer, Jim Doyle, and Jim Campbell.
Following this spirit of collaboration, in 2018 she flew to Berlin, Germany where she was a guest soloist with Richard Siegal's "Ballet of Difference" premiering and touring 2 new works and repertoire throughout Europe. Living overseas expanded Henry's artistic pallet as she began freelancing as a writer, model, and researcher. Her work has been featured not only as a performer but as a critical contributor in Dance Magazine, Pointe, DIYDancer Magazine, and numerous lifestyle and travel publications. Courtney is an awardee of the Princess Grace Foundation – USA and Chris Hellman Dance award, a YAGP 'Stars of Tomorrow Gala' Alumni, and a Goethe Institute Research Beneficiary. She is a recent M.F.A. Graduate from the University of The Arts and a recipient of their President's Award for Innovative & Creative Research.
Henry is an interdisciplinary creator, performer, writer, educator, mentor, and mother. All of her practices spring from a liberatory imagining through Afro-futurism, where time and space are non-linear. Her most recent obsession is using radical imagery to enliven the ballet form so that more bodies can see themselves inside the practice.
Workshop Description:
BALLET UNRAVELED
Ballet. Simply an Italian word for dance. Could we take it off its pedestal and get inside it? Push at its edges, ask it to grow, and make space for ALL bodies. Organizing our minds first, we will shift to a practice rooted in wholeness and curiosity. Troubling the foundation of flat 2-dimensional shapes, the class will build upon a glossary of re-imagined ballet terms all while fine-tuning the body back to nature. A Sankofic approach rooted in ideas and truth.
J. BOUEY (they/them)
Bio:
Currently moving on pandemic timing and prioritizing rest. As a Dance Artist and Astrologer, J. is finding their way back to joy by imagining the abolition of systemic oppression through their current project,
S A T U R N
.
J. is the founder of
The Dance Union Podcast
,
init
iating the
NYC Dancers COVID-19 Relief Fund
and
The Dance Union Town Hall For Collective Action
to s
upport the dance community through numerous world-changing events.
As a creator, J. is a
recent
2021-2022 Jerome Fellow
and
is a
2022/2023 Movement Research Artist in Residence
. J. Bou
ey was also
recently a
Gibney
2021 Spotlight Artist
,
Artist-In-Residence
at
CPR – Center for Performance Research
, and
2021 Bogliasco Fellow
. J. was als
o a
2018 Movement Research Van Lier Fellow
, and
2018 Dancing While Black Fellow
.
J. is currently a collaborator with
nia love
. They were also a former performer with
Bill T. Jones/Arnie Zane Company
, danced with
Germaul Barnes' Viewsic Dance
,
Maria Bauman's MB Dance
,
Dante Brown
,
Antonio Brown Dance,
Christal Brown's INspirit Dance,
and apprenticed with
Emerge 125
(formerly Elisa Monte Dance) under the artistic direction of
Tiffany Rea-Fisher
.
Deter
mined to manifest the dreams dreamt in their youth, J. is assuming this responsibility because these dreams sustained them when the sun didn't shine or shined too bright to see.
Class Description: DANCESTROLOGY
In this workshop, we will explore our Moon sign and phase through our warm-up, improvisation and cool-down. This workshop intends to facilitate anti-oppressive, trauma-informed, joyful relationships with our bodies by exploring them through the lens of astrology.
CANDACE THOMPSON-ZACHERY (she/her)
Bio:
Candace Thompson-Zachery, is Brooklyn-based and born and raised in Trinidad and Tobago. She is a dancer, choreographer, certified fitness professional, cultural producer and the beauty and brains behind CanDanceFit, the Artistic Director of ContempoCaribe and the Founding Executive Director of Dance Caribbean COLLECTIVE. She is a graduate of Adelphi University's BFA in Dance ( Modern Dance + Ballet), and is a pioneer and expert in the Soca/Carnival Dance field. Candace has positioned herself a cultural leader and entrepreneur producing and promoting Caribbean & Contemporary Dance. As a personal trainer, she has honed her skills with various certifications to lead clients to a state of alignment, strength and stability. Candace has a Master of Arts degree in Performance Curation from Wesleyan University's Institute of Curatorial Practice in Performance.
Workshop Description: SOCA
Soca dance is a joyful class embodying the movement and energy of West Indian carnival. The class starts with a short warm up of basic moves traditionally done to Soca music (wining and other body isolations), proceeds to fun dynamic dance moves through space, and ends with a sequence of choreography.
MOPDC COLLABORATING COMPANY MEMBER WORKSHOPS
Creative Caribbean Movement w/ Kendra Ross (she/her)
Come explore the ways dances of the divine spirits of the African Diaspora of the Caribbean can inform the essence and personality of creative movement. This fusion class will use traditional folklore movements that represent varying themes such as play, passageways, flow, beauty and strength as a foundation to color and inform a modern dance combination. The class will begin with a gentle warm up that includes body articulations, isolations and flow to prepare the body to move. Next, students will learn traditional folkloric movement taught at a pace dictated by students with a number of variations offered to accommodate varying mobility levels. The folkloric movements will be the base for the combination that is co-created by the teacher and students. The class will finish with light stretching to allow all the work to settle in. All ages and mobility levels welcome.
Afro-Colombian Bullerengue w/ Melissa Escano (she/her)
Melissa and accompanist Sebastian will take us through the 3 styles of Bullerengue, an Afro-Colombian tradition - that is both sang and danced. We will learn basic steps, sing, and share in community the lamentos (pain), resistance and joy that Bullerengue calls upon. Bring a skirt and/or hat!
ADDITIONAL FULL INTENSIVE OFFERINGS
Dancing While Black: HOW WE BUILD * COLLECTIVE(S) ACTION
Special Guests:
AIMEE MEREDITH COX, EBONY NOELLE GOLDEN, RASHIDA BUMBRAY + PALOMA MCGREGOR
INFO:
Part of Dancing While Black's 10th Anniversary Season, this important and necessary conversation led by moderator Aimee Meredith Cox, will uplift the work of artists Ebony Noelle Golden, Rashida Bumbray and Paloma McGregor as cultural workers, organizers who are using movement building and using the body as a holding space for culture. Registration will be included in the Full Intensive package OR you may register for this event separately HERE.
WHAT'S LEFT OF SPRING
INFO:
Full Intensive participants will witness MOPDC's latest iteration of their work-in-progress What's Left of Spring, a collaborative afrofuturistic multidisciplinary immersive conversation on sociopolitical issues the US has faced and will continue to face if systemic oppression continues to be the norm. A science-fictionesque return to ritual, in the future when our current conditions have become myth, this work posed the question: for there to be change, must something be sacrificed?
MOPDC Company Members + Affiliates: CLICK HERE FOR BIOS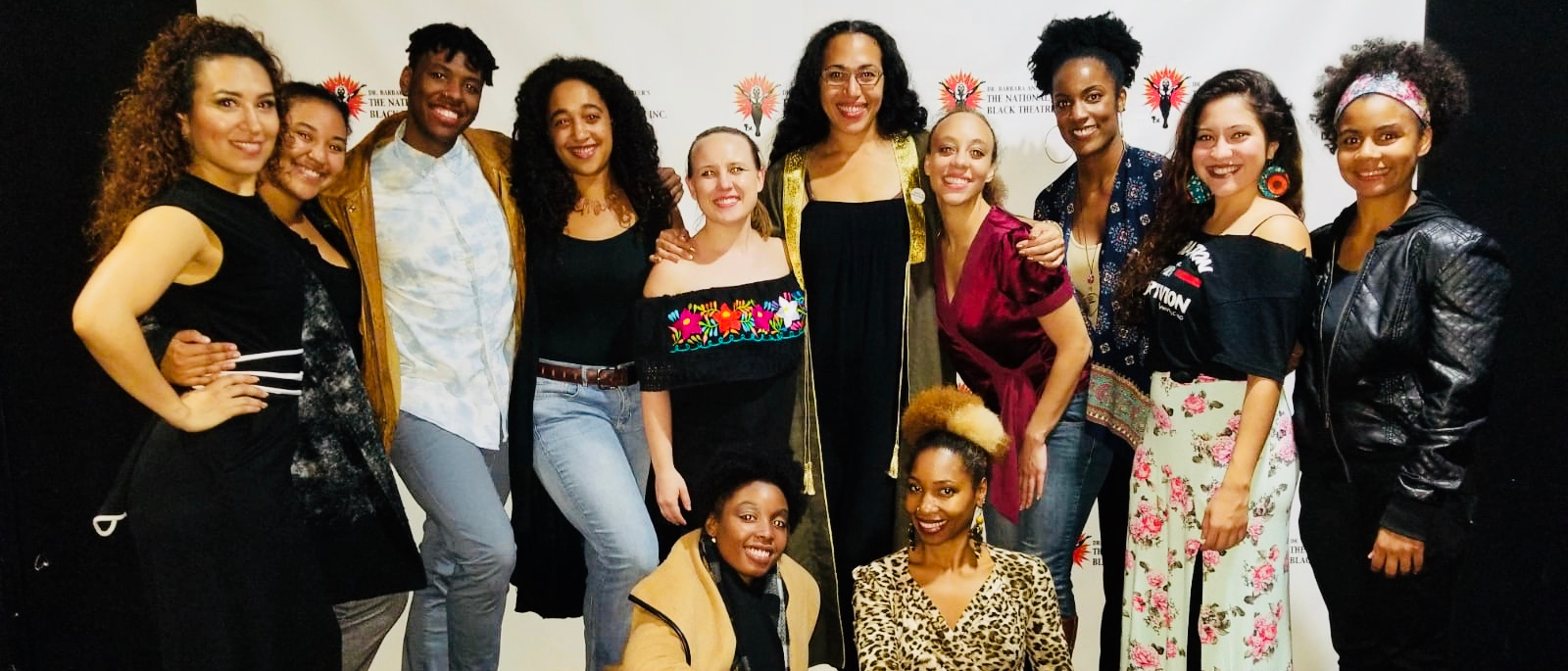 Tyrone Bevans Kelsey Burns Camilla Davis Melissa Escano Brittany Grier Solana Hoffmann-Carter Megan Minturn Joya Powell Kendra J. Ross Belinda Saenz Najla Sims Candace Tabbs Emily Tellier